This is the page for Teens.  We'll add reviews and special programs here, but the comments are open and ready for your input and feedback.  In addition any member of the libraries Teen Group can ask for and receive a log in that will allow them to add content too.  Just let us know.
---
Check out our recommended YA titles. They are part of our Good Reads account.
---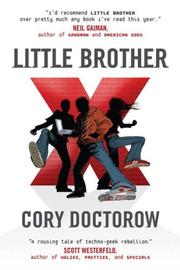 Little Brother
WorldCat•Read Online•LibraryThing•Google Books•BookFinder
Have you read Little Brother yet?  When he ditches school one Friday morning, 17-year-old Marcus is hoping to get a head start on the Harajuku Fun Madness clue. But after a terrorist attack in San Francisco, he and his friends are swept up in the extralegal world of the Department of Homeland Security. After questioning that includes physical torture and psychological stress, Marcus is released, a marked man in a much darker San Francisco: a city of constant surveillance and civil-liberty forfeiture. Encouraging hackers from around the city, Marcus fights against the system while falling for one hacker in particular. Doctorow rapidly confronts issues, from civil liberties to cryptology to social justice. While his political bias is obvious, he does try to depict opposing viewpoints fairly. Those who have embraced the legislative developments since 9/11 may be horrified by his harsh take on Homeland Security, Guantánamo Bay, and the PATRIOT Act. Politics aside, Marcus is a wonderfully developed character: hyperaware of his surroundings, trying to redress past wrongs, and rebelling against authority. Teen espionage fans will appreciate the numerous gadgets made from everyday materials. One afterword by a noted cryptologist and another from an infamous hacker further reflect Doctorow's principles, and a bibliography has resources for teens interested in intellectual freedom, information access, and technology enhancements. Curious readers will also be able to visit BoingBoing, an eclectic group blog that Doctorow coedits. Raising pertinent questions and fostering discussion, this techno-thriller is an outstanding first purchase.—Chris Shoemaker, New York Public Library
Copyright © Reed Business Information, a division of Reed Elsevier Inc. All rights reserved.
---
Eragon: (The Inheritance Cycle Series, Book 1)
WorldCat•Read Online•LibraryThing•Google Books•BookFinder
Or how about the Eragon series, where we're all waiting for the fourth and final book…
Here's a great big fantasy that you can pull over your head like a comfy old sweater and disappear into for a whole weekend. Christopher Paolini began Eragon when he was just 15, and the book shows the influence of Tolkien, of course, but also Terry Brooks, Anne McCaffrey, and perhaps even Wagner in its traditional quest structure and the generally agreed-upon nature of dwarves, elves, dragons, and heroic warfare with magic swords.
Eragon, a young farm boy, finds a marvelous blue stone in a mystical mountain place. Before he can trade it for food to get his family through the hard winter, it hatches a beautiful sapphire-blue dragon, a race thought to be extinct. Eragon bonds with the dragon, and when his family is killed by the marauding Ra'zac, he discovers that he is the last of the Dragon Riders, fated to play a decisive part in the coming war between the human but hidden Varden, dwarves, elves, the diabolical Shades and their neanderthal Urgalls, all pitted against and allied with each other and the evil King Galbatorix. Eragon and his dragon Saphira set out to find their role, growing in magic power and understanding of the complex political situation as they endure perilous travels and sudden battles, dire wounds, capture and escape.
In spite of the engrossing action, this is not a book for the casual fantasy reader. There are 65 names of people, horses, and dragons to be remembered and lots of pseudo-Celtic places, magic words, and phrases in the Ancient Language as well as the speech of the dwarfs and the Urgalls. But the maps and glossaries help, and by the end, readers will be utterly dedicated and eager for the next book, Eldest. (Ages 10 to 14) –Patty Campbell
Read this title The Winter Palace: a novel of Catherine the GreatEva Stachniak; Bantam Books 2011WorldCat•LibraryThing•Google Books•BookFinder 

Yeah you really want to read this.